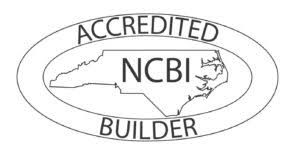 Jeff Easterling has been part of the residential building industry for over 27 years. Born and raised in Chapel Hill, North Carolina, he began his career in residential construction as a carpenter/superintendent in 1986.
In 1999, Jeff acquired his NC General Contractor license and formed Easterling Building Company (EBC). Green construction was just catching on in the United States, and EBC was pointed in that direction. In 2006, Easterling Building Company became Easterling Fine Homes Inc. and still focuses on the same principles of energy efficiency and sustainability.
We provide customers with exceptional quality control, unparalleled efficiency, and outstanding customer service. Easterling is a member of the HBA of Durham, Orange & Chatham Co.
"The NC Builder Institute has proven to be an excellent opportunity for me to increase my knowledge of new building standards and business management as well as offering curriculum and certifications to improve and exhibit my skills a residential General Contractor," said Easterling.